General News – Monday, June 1st, 2020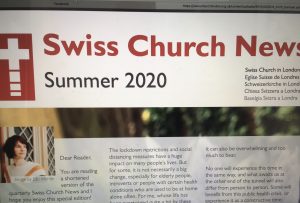 The summer 2020 edition of the Swiss Church News is out now. Click here to read and download your own copy.
Covid-19 presents special challenges to The Swiss Church in London. With the help of our congregation, members and friends and all the Swiss community we can meet and overcome them. On page 2 you can read more about these challenges and the measures that our Board of Trustees is taking.
On page 3 you can read our Minister, Reverend Carla Maurer's thoughtful article We are not at War  
All this and more in our special five page edition.
At this time we are facing considerable financial challenges. Our beautiful renovated church building has substantial running costs. Since the Church building is temporarily  closed due to Covid-19 lockdown restrictions we  are currently earning no income from hiring our beautiful church hall and gallery. This represents an annual loss of income of over £100,000 .
If you are able to make a donation to The Swiss Church in London to help us we will be most grateful.
Click here to donate online.