Allusion to a Body no Longer Present

Sara Rodrigues and Tyler Eash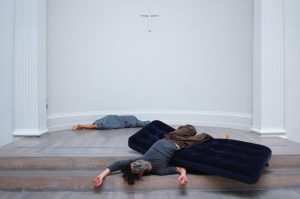 Curated by Camille Brechignac and George Watson, 1-16 March 2018 (please check performance times below)
Winners of the Swiss Church Annual curatorial collaboration with Goldsmiths, University of London, curators Camille Bréchignac and George Watson present a newly commissioned performative installation by Tyler Eash and Sara Rodrigues. The work is informed by the artists' interaction within the Swiss Church community, the performance taking as its point of departure interviews with the congregation on questions of mortality, faith and legacy. The focus on community extends to the curated conversation room – providing a comfortable space to converse about the exhibition.
Performance & Screening Times:
Friday, 9 March: Film Screening, The Blood of a Poet by Jean Cocteau from 7 – 8pm
Saturday, 10 March: Performance starts at 5pm, followed by Artist Talk from 8 – 9pm
Friday, 16 March: Performance starts at 7pm
Find out more about the project, artists and curators here.