Photo exhibition by Andy Palfreyman, 3-8 October 2019
Curated by Daniella Rossi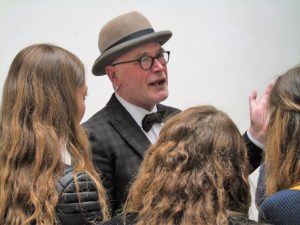 Andy Palfreyman was street homeless for 30 years after he left his parental home in Cheshire at the age of 19. He slept mostly in the streets of London in various postcodes. Life changed in 2015 after a chance conversation with an artist who had an exhibition next to the Swiss Church, where he used to come for weekly breakfast. That's how he got his first camera and the necessary support for his artistic work.
"Photography is a way of expressing myself and how I see the world. Until 2015 I had no idea I had any artistic talent and I didn't believe in myself. I had very little self-worth, hence 30 years on the streets. Photography empowers me and hopefully is going to raise awareness for homelessness. This is what it's about for me."
Andy held his first exhibition 'Cardboard and Caviar' at the Swiss Church in London in December 2015 showing some of the doorways that became home. The exhibition was a great success with exposure in the Evening Standard, BBC London News and Buzzfeed. In 2017 the exhibition was also shown in Zurich, Switzerland.
Andy describes the content of his second photography exhibition: "When you are street homeless you tend to look down and notice things most of the general public don't see. It strikes a chord with me, why it's there, how it got there, and I photograph it. It feels like I'm the only person who sees it. Some of these things can be upsetting, but I see it from a homeless person's point of view. When I see these things I can personally relate to them. For example in Shaftesbury Avenue there is a broken spanner pressed into the tarmac and I bet no one else can see it but me. It reminds me how homeless people are pushed down and become invisible. Once a homeless guy walked past me, it just started to rain, and he left footprints on the wet pavement. I call this photograph The Invisible Homeless."
More information available soon.
Goldsmiths Exhibition: The Table
Curated by Mariana Lemos
6-9 March 2019
Opening Tuesday 5 March 6.30-9.30pm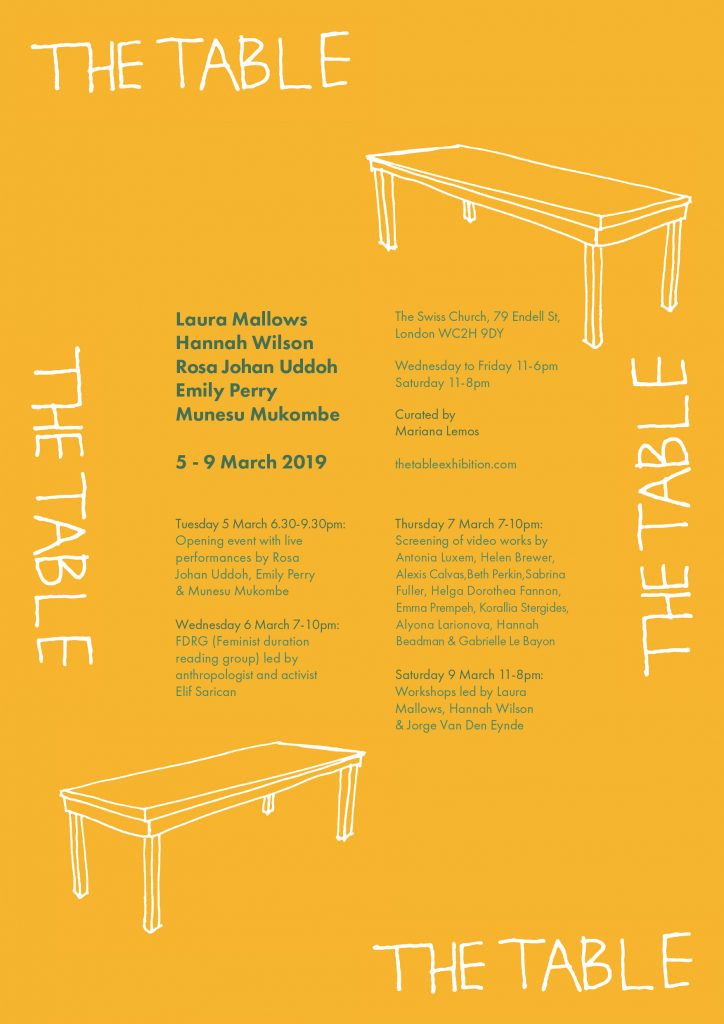 The table carries a variety of differing associations. It evokes images of domestic intimacy, as well as ideas about horizontality and democracy. By default, however, it also represents methods of hierarchisation and exclusion – Who gets a seat at the table?
Containing the potential to facilitate spaces of equality as well as of discrimination, the table simultaneously embodies mechanisms of both inclusion and exclusion.
A large wooden table is at the centre of the exhibition. It lays the foundations for realising and displaying the project: artworks, performances, video screenings and workshops aim at working through these dichotomies present in our everyday lives.
Developed by Mariana Lemos in collaboration with artists Laura Mallows, Hannah Wilson, Rosa Johan Uddoh, Emily Perry and Munesu Mukombe.
Tuesday 5 March 6.30-9.30pm: Opening event with live performances by Rosa Johan Uddoh, Emily Perry and Munesu Mukombe.
Wednesday 6 March 7-10pm: Reading group FDRG led by Elif Sarican and Kezia Davies
Screening: Thursday 7 March 7-10pm
Helen Brewer, Alexis Calvas, Beth Perkin
Korallia Stergides
Alyona Larionova
Antonia Luxem
Emma Prempeh
Helga Dorothea Fannon
Sabrina Fuller
Gabrielle Le Bayon
Hannah Beadman
Save your seat: https://www.eventbrite.co.uk/e/the-table-screening-tickets-56851397059
Friday: It's the Women's Strike march, we will go, you should too. https://www.facebook.com/events/260713894818236/
Saturday 9 March 11-8pm: Workshops with Hannah Wilson, Laura Mallows and Jorge Van Den Eynde
Save your seat: https://www.eventbrite.co.uk/e/the-table-workshops-tickets-56873357744
Exhibition opening times:
Wednesday to Friday 11-6pm and Saturday 11-8pm
FULL PROGRAMME
https://www.thetableexhibition.com/
This project is supported by the Swiss Church and Goldsmiths University