Weddings, Baptisms, Confirmations and Funerals
The birth of a child, the death of a loved one or the promise of two people to face the ups and downs of life together are among the most crucial moments in life. Many people wish to mark these moments with a church blessing. At the Swiss Church, we are committed to accompany this journey in a way personal to you and to find words that express what is important to you.
If you would like more information, please contact Reverend Carla Maurer
Wedding
Reverend Carla Maurer and Mr Colin McIntyre are authorised to register a marriage if it takes place at the Swiss Church. Normally, one of the couple have to be Swiss and member of the Swiss Church to register the marriage at the Swiss Church. Exceptions are subject to approval by the Consistoire.
If you do not apply for registering your marriage at the Swiss Church, we are happy to conduct a blessing ceremony for you if your marriage has been registered at a registry office beforehand. This option is also available for non-Swiss and same-sex couples.
Weddings involve a lot of planning and we recommend that you approach the Church at least 6 months prior to your preferred wedding date. Several meetings will be necessary to prepare for the wedding and a fee will apply.
Our wedding blessing at the Swiss Church was more wonderful than we ever could have hoped for. Carla really took the time to get to know us and the service was beautifully personal, we had so many comments about it and lots of people said it was the best wedding ceremony they'd ever been to. She's also the coolest vicar ever! The church itself looked simply stunning and literally took my breath away as I walked in on the big day. The light is like nowhere else – it's so different from many traditional churches and wedding venues and that makes it so unique and special. The team are really friendly and professional – literally cannot recommend it enough.
— Rebecca and Thomas
The Swiss church is an excellent place to get married. We couldn't have asked for a better wedding day. Carla and her team were fantastic, very supportive. The service was warm, welcoming, and was very personal to us. Our friends and family had a fantastic time, and the church organ was a magnificent accompaniment to the day. Thank you Swiss Church.
— Helen and Jon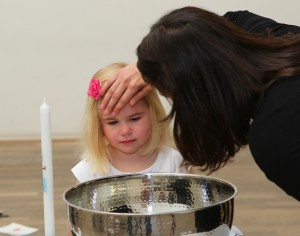 Baptisms and Confirmations 
The Swiss Church welcomes families from all denominations who wish to bring their child to be baptised as well as adults who seek baptism, provided that they have not been baptised before.
We do not run confirmation classes, however if you wish to be confirmed, the Minister will prepare your confirmation with you. Baptisms and confirmations usually take place during a regular Sunday service in the presence of the congregation.
My baptism in the Swiss Church in London was a very special event to me. Three Ministers led the baptism and prepared a beautiful, touching service. I will always keep the baptism in the Swiss Church in memory as an exceptional ceremony.
— Hannah, 19
Confirmation has been extremely important for me. Getting to know and experience the Swiss Church and its community has been fundamental in my spiritual journey, and I felt that getting confirmed there, in front of family, friends, and the congregation, was an amazing opportunity to gather around and give thanks to all those dear to me.
— Niccolo, 22
Funerals
Funeral services can take place at the Swiss Church or at a cemetery chapel.
The Minister is here for you to discuss the funeral service and to support and accompany you in times of grieving.