Organ Recitals
Our Director of Music, Peter Yardley-Jones, organises an impressive line up of local, Swiss and internationally renowned organists to come and show off our Swiss-built Späth organ. Concerts take place on Saturdays at 5pm.
Saturday 12 June 2021
Richard Gowers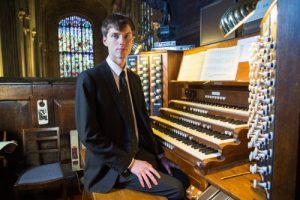 Richard Gowers, a renowned organist and harpsichord player. He started the piano at an early age. He then sang as a chorister in the King's College Choir Cambridge in 2004-2008 and took up the organ and violin. He spent five years at Eton College (2008-2013) with the support of a generous music scholarship, and continued his studies in several musical disciplines while beginning to take an interest in the harpsichord and in conducting. At the age of 16 he became a prize-winning Associate of the Royal College of Organists, and a year later became a prize-winning Fellow.
[POSTPONED, to dates in 2021 TBC] 
Richard Garczik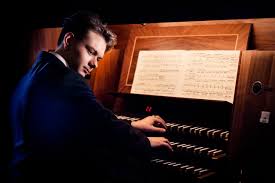 Richard Garczik,  a Hungarian concert organist and composer, has given numerous recitals in several European countries, including Germany, Finland, Hungary, France, Rumania and Slovakia. He counts among his teachers Zsuzsanna Elekes (Béla Bartók Conservatory of Music, Budapest), Christoph Bossert, Jan Doležel and Reiner Gaar (University of Music, Wurzburg) and Helmut Deutsch (State University of Music and Performing Arts, Stuttgart).
His repertoire consists of works from the most musical eras – from the 17th century to the contemporary music. He plays with special love the great masterworks of J. S. Bach, romantic organ literature pieces , and rarely performed pieces by composers
from different eras.
Do continue to check our events page for the next recital.
Entrance to organ recitals is free with a retiring collection at the end. We now offer live-console video projection (with thanks to a generous sponsorship by Oakridge Executive Medicine Ltd), so the audience is able to watch the organist perform live. Hearing is believing with our organ and we look forward to welcoming you at one of our concerts.
With thanks to organrecitals.com for advertising our events.
If you would like to learn more about the Swiss Church Organist and Director of Music, read the interview with Peter Yardley-Jones in the Swiss Church News Summer 2017 edition.