Organ Recitals
Our Director of Music, Peter Yardley-Jones, organises an impressive line up of local, Swiss and internationally renowned organists to come and show off our Swiss-built Späth organ. Concerts take place on Saturdays at 5pm.
Saturday 1st February 2020
Peter Stevens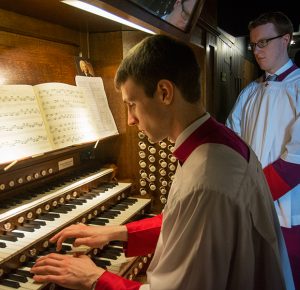 Peter Stevens is Assistant Master of Music at Westminster Cathedral. Born in Lancashire in 1987, he was educated at Chetham's School of Music, subsequently holding organ scholarships at Manchester Cathedral, St George's Chapel, Windsor Castle, and King's College, Cambridge. He came to Westminster Cathedral in 2010, taking up his present position the following year. As well as accompanying the Cathedral Choir in their daily services, recordings and concerts, he has given solo recitals across the UK and Europe. In 2013 he became Director of the Schola Cantorum of the Edington Festival, following three years as Festival Organist. His teachers have included Thomas Trotter, David Briggs, and Colin Walsh.
Do continue to check our events page for the next recital.
Entrance to organ recitals is free with a retiring collection at the end. We now offer live-console video projection (with thanks to a generous sponsorship by Oakridge Executive Medicine Ltd), so the audience is able to watch the organist perform live. Hearing is believing with our organ and we look forward to welcoming you at one of our concerts.
With thanks to organrecitals.com for advertising our events.
If you would like to learn more about the Swiss Church Organist and Director of Music, read the interview with Peter Yardley-Jones in the Swiss Church News Summer 2017 edition.