Publications – Thursday, March 17th, 2022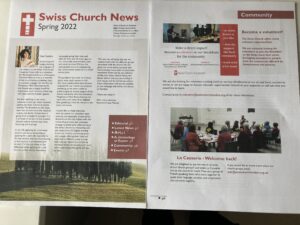 The Spring 2022 edition of the Swiss Church News is out now.
Click here to read it in pdf format.
Our Minister Reverend Carla Maurer writes:
Easter is so much more than a Sunday in Spring with colourful eggs, daffodils and a roast lunch! If we look at Easter as the period starting with Lent, which this year begins on 1 March, and ending with Easter Sunday, it takes us through the ups and downs of life and is rich with symbols representing different aspects of human life. In this new edition of the Swiss Church News you will find a  chronology of the Easter period with some small actions to do for each part. 
You will also find event information, such as a lunchtime recital for International Piano Day (29 March) and the Exhibition Breaking Bread (6-10 June), an artistic reflection of the Lord's Supper. 
Every blessing,
Carla 
The print edition will be mailed out to subscribers in the  next few days.  The Royal Mail postal service is slower than usual due to Covid-19 problems, so please be patient.
We welcome donations towards the costs of producing the Swiss Church News magazine. You can donate securely online here. (The service is provided via the Charities Aid Foundation).