General News – Tuesday, July 16th, 2019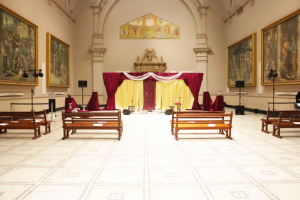 The Art Committee of The Swiss Church, London are delighted to announce that they have chosen Hamed Maiye to be the artist in residence at the Swiss Church from August to October 2019.
Hamed Maiye is a multidisciplinary artist and curator based in London that uses portraiture as a means of expressing emotional identity and heritage. Maiye founded the arts movement 'Afro-Portraitism' which documents the multifaceted image of the contemporary youth of the Afro-Caribbean diaspora whilst exploring the concept of self representation. One of the key drivers in Maiye's collaborative practice is the introduction of new personal narratives and creating visibility for those who are often marginalised.
During his residency Maiye wishes to explore the parallels between spiritualism, surrealism and reality: "I am interested in the space between reality and surrealism and how these can reflect/inform each other. This space of cross reflection will be grounds to research a visual language and aesthetic of personal utopias and safe spaces. My research will include exploring different forms of iconography and implementing it into my practice in order to create a body of work."
Photograph: A collaborative installation and performance by musician Roxanne Tataei and artist Hamed Maiye, commissioned by the V&A museum. With permission of Hamed Maiye, Roxann Tataei and the V & A Museum.
For more information:
www.maiye.co.uk
https://swisschurchlondon.org.uk/art/artist-residency/