Artist Residency 2021 – Open for applications 
The Swiss Church invites artists to apply for a three-month residency from March to May 2021. The artists will have access to the Church over this period and a workspace can be arranged if wished. An opportunity to be mentored by an appropriate Swiss Church Art Committee member can also be requested.  Artists from all artistic disciplines as well as curators are encouraged to apply. The artist in residence is asked to share extracts of their work with the public at the end of the residency.
Throughout its history, the Swiss Church London has fostered a dialogue between art and faith, between parishioners and cultural practitioners coming to the space. Therefore, the Swiss Church continues to contribute towards current and broad socio-political conversations within an increasingly secular society. Arts and music connect to the story of our society and culture. We create a threshold between the sacred and secular worlds, exploring the common ground and what Christianity means to us today.
In recent years we have invited artists to respond to a specific theme. For 2021 we would like to broaden the criteria and allow artists the opportunity to creatively respond to the history, architecture, location and community of the Swiss Church.
Application deadline: 26 November 2020 at midnight GMT
The chosen project will be announced on 15 December.
The Swiss Church Art Committee will make the selection with the support of an interdisciplinary Reader Group.
We would be delighted to hear from you!
Please be aware that the church is currently closed due to lockdown 2. To arrange a site visit or for more information about the building, please contact Venue Manager Emily Rose. The safety of our staff is important to us, and we cannot always guarantee a site visit during the lockdown. Thank you for your understanding! 
PAST RESIDENCIES
Hamed Maiye – August to October 2019
The Art Committee of The Swiss Church in London are delighted to announce that they have chosen Hamed Maiye to be the artist in residence at the Swiss Church from August to October 2019.
Hamed Maiye is a multidisciplinary artist and curator based in London that uses portraiture as a means of expressing emotional identity and heritage. Maiye founded the arts movement 'Afro-Portraitism' which documents the multifaceted image of the contemporary youth of the Afro-Caribbean diaspora whilst exploring the concept of self representation. One of the key drivers in Maiye's collaborative practice is the introduction of new personal narratives and creating visibility for those who are often marginalised.
During his residency Maiye wishes to explore the parallels between spiritualism, surrealism and reality:
"I am interested in the space between reality and surrealism and how these can reflect/inform each other. This space of cross reflection will be grounds to research a visual language and aesthetic of personal utopias and safe spaces. My research will include exploring different forms of iconography and implementing it into my practice in order to create a body of work."

For more information:
www.maiye.co.uk
Photograph: A collaborative installation and performance by musician Roxanne Tataei and artist Hamed Maiye, commissioned by the V&A museum. With permission of Hamed Maiye, Roxanne Tatei and the V & A Museum.
Miriam Laura Leonardi – August 2018
The 2018 Swiss Church August Artist Residency was awarded to Zurich-based artist Miriam Laura Leonardi. Miriam was in residence at the Church from 6 – 26 August 2018, where she developed her project The Church (after Robert Ashley's Perfect Lives) – a live reenactment of the THE CHURCH (AFTER THE FACT) – an episode of Robert Ashley's Television Opera Perfect Lives.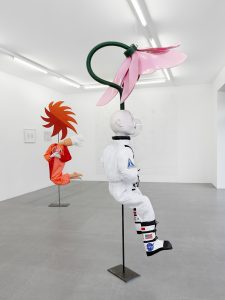 Miriam Laura Leonardi, Angels of Chaos 1 & 2, 2016, various media, dimensions variable
Kindly supported by the Austrian Cultural Forum and Maecenas.