Artist Residency 2019/2020
The Swiss Church invites artists to apply for two three-month residencies from August to October 2019, and from April to June 2020. The artists will have access to the Church over this period and a workspace can be arranged if wished. Artists from all artistic disciplines as well as curators are encouraged to apply. The artist in residence is asked to share extracts of their work with the public at the end of the residency.
The chosen artist in residence will receive a stipend of £1,500.
Application deadline: 9 June 2019 
Apply here: Residency at The Swiss Church in London_Application
PAST RESIDENCIES
The 2018 Swiss Church August Artist Residency was awarded to Zurich-based artist Miriam Laura Leonardi. Miriam was in residence at the Church from 6 – 26 August 2018, where she developed her project The Church (after Robert Ashley's Perfect Lives) – a live reenactment of the THE CHURCH (AFTER THE FACT) – an episode of Robert Ashley's Television Opera Perfect Lives.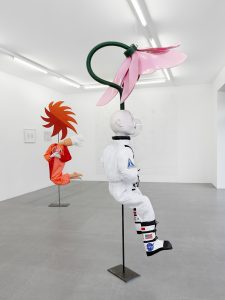 Miriam Laura Leonardi, Angels of Chaos 1 & 2, 2016, various media, dimensions variable
Kindly supported by the Austrian Cultural Forum and Maecenas.