Artist Residency Autumn 2022 – Apply now! 
PLEASE NOTE: Due to technical problems, all applicants who have submitted their application before 12 May need to re-apply through the link below. We apologise for the inconvenience! Deadline extended to 16 May.
We are delighted to launch the open call for the upcoming autumn residency from August to October 2022.
The Swiss Church in London runs the art residency programme as an avenue to support artists and curators by providing them with the rare opportunity to work and showcase their work in central London. The chosen applicant(s) for the residency will receive a stipend of £1,500 to support their project.
The residency will run from August to October2022, during which time the artists or curators will have access to a studio space in the Church.
Detailed brief and application link here: UPDATE Swiss Church in London 2022 Artist Residency Application Brief
APPLICATION DEADLINE: Thursday, May 16, at midnight (NOW CLOSED)
INTERVIEW DATES for applicants short list: Thursday, June 2
We are looking forward to hearing from you!
Past Residencies
Abel Shah – September to November 2021
Our Swiss Church London Artists in Residence for 2021 are Abel Shah, an artistic duo consisting of the Alex Bell and Guilia Shah who have developed new work within the Swiss Church studio space.
Abel Shah have a mutual interest in the relationship between language and the body, structures of power, and the distribution of knowledge and ideas through technologies. They create multimedia installations, publications and internet art.
With many thanks to Camden Giving charity for their support.
Read more about Camden Giving and Abel Shah
Hot Desque – August to October 2020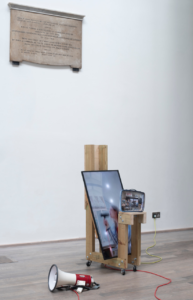 Founded in 2018, Hot Desque is a curatorial partnership by artists Lizzy Drury and Neena Percy, showing emerging and established artists within site-specific exhibitions, writing publications and hosting events.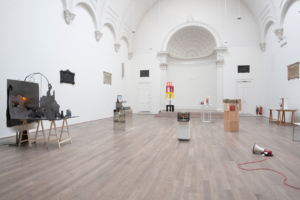 Hot Desque have worked on projects in temporary settings across the UK, including a former nightclub. The exhibitions aim to bring artworks together as part of a theatrical mise-en-scène, providing a platform for experimentation and interdependence.
At the end of the residency, Hot Desque showed the exhibition Model Village at the Swiss Church. The exhibition took the form of a series of artist- made scale models. These were used as alternative exhibition spaces as part of the resulting project of nomadic curatorial platform Hot Desque's residency at the church.
Hamed Maiye – August to October 2019
Hamed Maiye is a multidisciplinary artist and curator based in London that uses portraiture as a means of expressing emotional identity and heritage. Maiye founded the arts movement 'Afro-Portraitism' which documents the multifaceted image of the contemporary youth of the Afro-Caribbean diaspora whilst exploring the concept of self representation. One of the key drivers in Maiye's collaborative practice is the introduction of new personal narratives and creating visibility for those who are often marginalised.
During his residency Maiye wishes to explore the parallels between spiritualism, surrealism and reality:
"I am interested in the space between reality and surrealism and how these can reflect/inform each other. This space of cross reflection will be grounds to research a visual language and aesthetic of personal utopias and safe spaces. My research will include exploring different forms of iconography and implementing it into my practice in order to create a body of work."
For more information:
www.maiye.co.uk
Miriam Laura Leonardi – August 2018
The 2018 Swiss Church August Artist Residency was awarded to Zurich-based artist Miriam Laura Leonardi. Miriam was in residence at the Church from 6 – 26 August 2018, where she developed her project The Church (after Robert Ashley's Perfect Lives) – a live reenactment of the THE CHURCH (AFTER THE FACT) – an episode of Robert Ashley's Television Opera Perfect Lives.
Kindly supported by the Austrian Cultural Forum and Maecenas.