August Artist Residency

The Swiss Church August Artist Residency enables a Swiss artist to undertake a fully funded residency at the Swiss Church in London for three weeks in August. The selected artist is given 24-hour access to the Church's unique heritage-listed building in Covent Garden, and a work space on the third floor of the building.
The residency is designed for self-led professional development, and experimentation, and is particularly suitable for artists who work site-specifically, or whose practices engages with sound, light, theology, spirituality or community engagement. It offers an artist a period of time to work in quiet and solitude, as well as the freedom to experiment in a large, highly resonant space.
The 2018 Swiss Church August Artist Residency was awarded to Zurich-based artist Miriam Laura Leonardi. Miriam was in residence at the Church from 6 – 26 August 2018, where she developed her project The Church (after Robert Ashley's Perfect Lives) – a live reenactment of the THE CHURCH (AFTER THE FACT) – an episode of Robert Ashley's Television Opera Perfect Lives.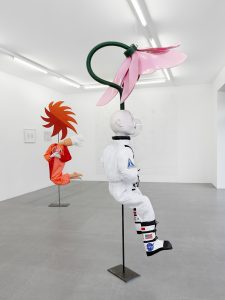 Miriam Laura Leonardi, Angels of Chaos 1 & 2, 2016, various media, dimensions variable

Kindly supported by the Austrian Cultural Forum and Maecenas.