Goldsmiths MFA Curating Partnership, 2011 – 2021
Church and art have a common ground and history. The hope and desire to emphasise the meeting between those attending the Swiss Church for worship and those stepping through its doors to admire its architecture and cultural significance, sparked the idea for a collaboration with the MFA Curating at Goldsmiths University of London. The tutors on the curating course welcomed a dialogue and debate with such an interesting space as the Swiss Church, and embraced a more general engagement with the historic relationship between art, religion, architecture and community.
Since 2011, the Swiss Church and the MFA Curating programme at Goldsmiths have had a successful partnership and run a yearly competition for first year art curating contemporary art students, coordinated by David Mollin and Ele Carpenter, in collaboration with the Swiss Church team. Students are invited to submit a proposal for a curatorial project that uses the space for one-two weeks, with the winner delivering their project in February/March. All applications are viewed and assessed by the Swiss Church Arts Committee.
A contemporary art curator's job entails being responsible for a researching, conceptualising and producing exhibitions, commissioning new art work, developing a context for the work through working in partnership, writing, and engaging audiences. The exhibition at the Swiss Church gives students of the Goldsmiths programme the opportunity to develop all these skills through curating an art exhibition in a unique space, creating a dialogue between the sacred and the secular world.
PAST EXHIBITIONS
Goldsmiths exhibition 2021, 21-26 June 2021
Marguerite Humeau: WEEDS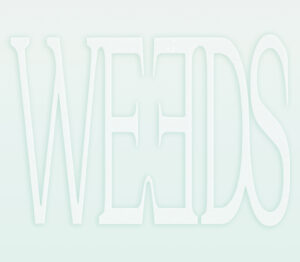 Curated by Léonore Larrera & Marie de Ganay
RESERVATIONS HERE
What if extinct voices were brought back to life? How can we make silenced and invisible knowledge visible?
The exhibition will present Marguerite Humeau's new sound piece, WEEDS, realised in collaboration with the musician Lafawndah in 2021. WEEDS is a tribute to past and present women who have had an impact in the development of medicine, but whose knowledge and names have been put aside from the official narrative.
Throughout history women have been midwives, pharmacists, doctors, botanists, and healers. They contributed to the development and research of medicine, and they had an important role in their community. Nevertheless, many have been cast out of the official narrative of medical history. Their practices have often been associated with witchcraft and they were victims of the Witch Hunts, which raged in Europe between the 14th and the 19th century. A considerable body of knowledge surrounding plants and their healing effects has been lost.
Led by the repeated sound of a gong, a voice – musician Lafawndah – lists names of women and fragments of their history. Through the simple but caring act of naming them, Marguerite Humeau brings them back to the very centre, giving them a voice, a power, and a presence. WEEDS is the result of an important work of investigation and research by the artist, typical of her creative process.
The acoustic quality of the Swiss Church and its multi-layered infrastructure offers the possibility of a wide range of musical movement. With a surround sound system, WEEDS will amplify the architecture of the church as a place to remember the living and connect with the deceased. Plunged into a meditative state, the audience will be invited to walk around and take the time to listen.
TALKS: Rendering the invisible visible June 22, 4-9pm
Program
Please register here for both online and in person conversations. The in-person conversations have a limited capacity of 28 persons.
4PM SALOME VOEGELIN (online)
How to fill the present and address an empty past with sound as an activator of invisible presence?
With the researcher and artist Salomé Voegelin, we will start from Marguerite Humeau's sound piece WEEDS to discuss the sonic possibility to rethink normative narration. Alongside her practice as a teacher on sound at LCC and her multi-disciplinary curatorial approach, Salomé Voegelin dedicated a book to this question: Sonic Possible Worlds, re-edited in 2021.
5PM GINA BUENFELD-MURLEY (online)
How can we reflect on the paradox of the plant as both a universal symbol and the most fundamental yet misunderstood form of life on our planet?
The curator Gina Buenfeld-Murley will give a 30 minute talk followed by a discussion with the curators and the audience. We will share diverse cultural perspectives on plant intelligence, philosophy and history across culture and time. Her long-term experience and research on traditional plant healing in Europe, Central and South America will serve as a strong base and resource of knowledge to open this discussion.
7 PM ALIYA SAY (At the Swiss Church)
What role artistic practices play in keeping and sharing plant knowledge?
Starting from the practice of artists Hildegard von Bingen, Hilma Af Klint and Emma Kunz, all working with healing-spiritual-vegetal practices, the writer and researcher Aliya Say will reflect on how to keep and share plant knowledge that has been erased and what role artistic practices play in it. Aliya Say ongoing research is concerned with vegetal thinking, mystical experiences, and their overlap in the practice of women artists and mystics, historically and today.
8PM RASHEEQA AHMAD (At the Swiss Church)
How plant knowledge, healing practices and oral transmission can connect us intergenerationally? How can we re-valorise these marginalised practices?
Rasheeqa Ahmad is an herbalist, highly involved in finding ways to share and teach about herbal medicine with diverse communities, with projects such as the Community Apothecary. We will discuss with her the role of sharing plant knowledge to create new forms of solidarity, listen to a richer mix of voices and re-valorise suppressed and marginalised world views and practices.
PARTNERS
This project has been made in partnership with Goldsmiths University and the Swiss Church.
Art reproduced by d&b audiotechnik.
PRACTICAL
Any inquiries: exhibitionweeds@gmail.com
For more information about the exhibition click here.
Goldsmiths exhibition 2020: 
"In Nihilum" curated by Aleksandra Shevchenko, Pia Zeitzen and Francesca Portugal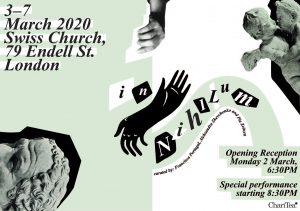 Opening evening: Monday 2 March from 6:30pm
For more information and performance schedule click here
Goldsmiths exhibition 2019: 
"The Table" curated by Marianna Lemos in collaboration with artists Laura Mallows, Rosa Johan Uddoh, Emily Perry and Munesu Mukombe.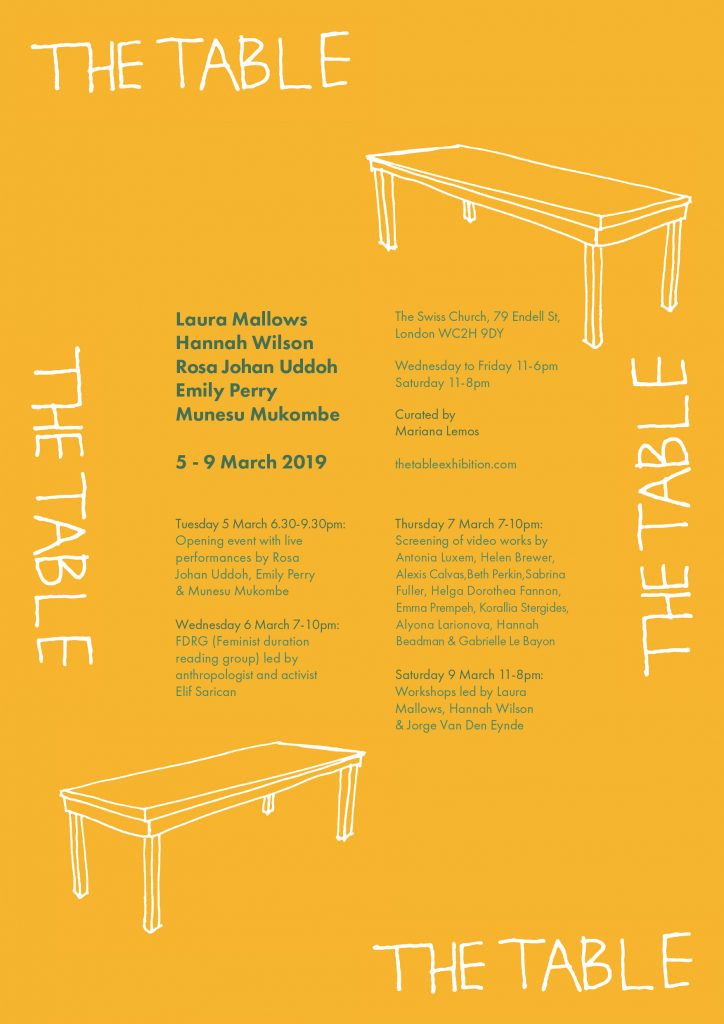 "The table carries a variety of differing associations. It evokes images of domestic intimacy, as well as ideas about horizontality and democracy. By default, however, it also represents methods of hierarchisation and exclusion- Who gets a seat at the table? Containing the potential  to facilitate spaces of equality as well as of discrimination, the table simultaneously embodies mechanisms of both inclusion and exclusion.
"A large wooden table is at the centre of the exhibition. It lays the foundations for realising and displaying the project: artworks, performances, video screening and workshops aim at working through these dichotomies present in our everyday lives"  –Mariana Lemos
Goldsmiths exhibition 2018: 
'Allusion to a Body no Longer Present' by Sara Rodrigues and Tyler Eash, curated by Camille Brechignac and George Watson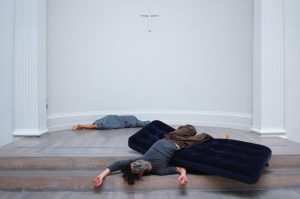 Curators Camille Bréchignac and George Watson present a newly commissioned performative installation by Tyler Eash and Sara Rodrigues. The work is informed by the artists' interaction within the Swiss Church community, the performance taking as its point of departure interviews with the congregation on questions of mortality, faith and legacy. The focus on community extends to the curated conversation room – providing a comfortable space to converse about the exhibition.
2017
'Hierophanies' by Patrick Hough, curated by Marian Stint, 3-18 March 2017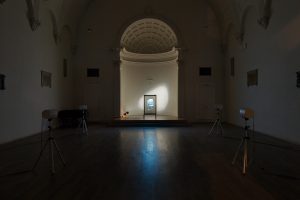 The exhibition Hierophanies takes as its departure the 500th anniversary of the Reformation in 2017. During the process of Reformation, objects belonging to the church were stripped of their holy status, inducing a wave of iconoclasm, or the destruction of religious imagery. Patrick Hough's exhibition reflects on the relationship between archaeology, technology and the reanimating power of digital cinema, in the context of contemporary iconoclasm – particularly the recent destruction of cultural and religious heritage throughout Syria and Iraq.
The installation Hierophanies in the main hall of the church consists of a large, transparent LED screen accompanied by several freestanding speakers. A continuously looping 3D animation depicts an artefact from the ancient ruins of Palmyra that was destroyed by the so-called Islamic State militants in 2015.
Generously supported by the Max Geilinger Foundation.
2016
'Crystalline Vitrine' by Richard Müller, curated by Kirsty White, 3-18 March 2016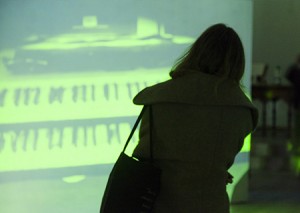 Crystalline Vitrine is a video and sculptural installation that derives its inspiration from the objects and community of the Swiss Church in London. It makes reference to the transformative effects of digital technologies; which through their simulation of real life can lead to both distance and intimacy, spectatorship and participation.
2015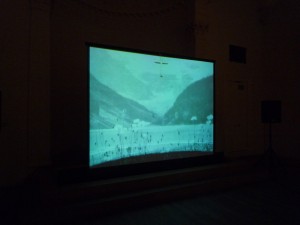 'Hear My Voice and Answer Me' explored the vocal act of yodelling through sound, video and acoustics; curated by Nathalie Boobis in collaboration with artists Rachael Finney and Anna F C Smith, featuring artist Doreen Kutzke. These exhibitions have opened up different ways of experiencing the church and reflecting upon cultural and political investigations of the space.
2014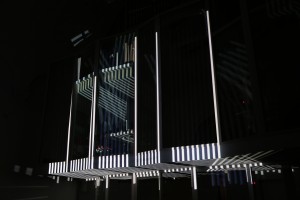 For the fourth exhibition curator Adrienne Groen commissioned an installation by artist Dorine van Meel whose recollections of her childhood memories of churches were rearticulated through ambient layers of sound and light. The exhibition was called '…instead to meet strangers who change our minds'
2013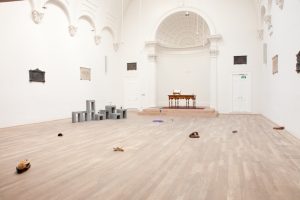 Julia Marchand's exhibition 'The First and the Last Folding' presented new work by artists Pauline Beaudemont and Martin Soto Climent, who drew upon the symbolism of the Swiss Church to explore complementary narratives concerned with ritual order and religious orientations.
2012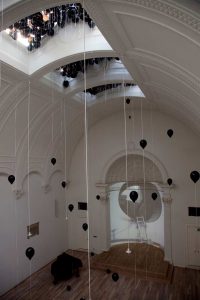 Heidi Brunschweiler invited Swiss Artist Monika Rechsteiner to present 'In Transition' which people may remember for the dramatic black balloons that slowly floated down from the ceiling throughout the exhibition. The installation included a video-montage of an abandoned nuclear reactor projected onto the apse which subtly addressed a possible relation between the field of religion and science.
2011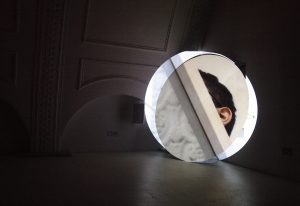 The  programme started in 2011 with sculptural works by artists Davide Cascio and Ilona Sagar, curated by Anca Rujoiu and Manuela Schlumpf.