Events – Friday, November 12th, 2021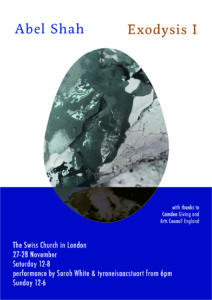 Saturday 27th November 12:00 to 20:00hrs and Sunday 28th November 12:00 to 18:00hrs
Abel Shah are the current Artists in Residence at The Swiss Church, London. To mark the forthcoming end of their residency in the church they are holding an exhibition entitled Exodysis 1
Abel Shah write:
We warmly invite you to our end of residency presentation at The Swiss Church in London, supported by Camden Giving and Arts Council England. Exodysis I is the first iteration of an ongoing body of work reflecting on the body as an archive.
As part of Exodysis I, we have invited artists Sarah White and tyroneisaacstuart to embark on a conversation through movement at 6-8pm on Saturday 27th November.
During our time in residence with The Swiss Church in London we have been experimenting with materials we find around ourselves in everyday life and which have been integral to the developments of the 20th and 21st century's, including urban housing, high-speed transportation, healthcare technologies, information storage and control of movement. By using materials which make up the shells of our everyday environments and recent histories, the sculptures we have made start to act as symbols of the layeredness of our own skins and experiences.
Exodysis I is an open-ended sculptural installation that invites others to engage, leave traces and create memories within the installation. The body of work has developed alongside ongoing dialogues with fellow practitioners and collaborators and we have been thinking about how meaning and relationships are built through language and exploring alternative ways of communicating.
Learn more about Abel Shah here