Events – Saturday, February 1st, 2020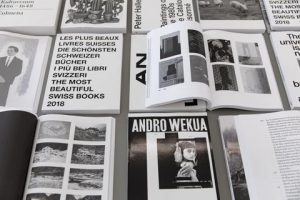 The Most Beautiful Swiss Book competition was established in 1943 to promote and reward the best of book design in Switzerland. The Swiss Federal Office of Culture organises the competition on an annual basis.
As part of the Behind The Book exhibition that runs from 31 January – 13 February jury member Rory McGrath and 2018 award winner Swiss graphic designer Jonas Voegeli will be at the Swiss Church for a talk. Jonas Voegeli will present a selection of books designed during his career.
The event is free, with limited space. Booking is required: info@behindthebooks.co.uk