Events – Monday, December 2nd, 2019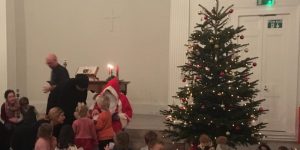 Swiss Family Christmas Afternoon 8 December 2019 , 2pm to 5.50pm
Programme
2pm -5pm – Crafts -Christmas tree baubles and turnip carving
2.45pm Christmas Carol singing
3pm to 4.30pm Samichlaus
4.30pm to 5pm. Räbeliechtliumzug (turnip lantern parade)
We are looking forward to seeing you all at the Family Christmas afternoon on 8 December at the Swiss Church!
The afternoon will include the much anticipated visit of the Swiss Samichlaus and Schmutzli, singing of Swiss carols, and a traditional Räbeliechtliumzug. Please bring your own tools for carving turnips (Räbe). The vegetables and candles will be provided. There will also be a craft station for Christmas tree baubles which will make excellent Christmas presents.
In contrast to previous years, the Samichlaus will not call up children individually. You can go and see him at any time between 3-4:30pm and prepare a 'Versli' or carol to receive a little present. The Samichlaus is fluent in Swiss-German, English and French.
Let Carla know that your children are coming and contact her if you have any further questions!
carla.maurer@swisschurchlondon.org.uk
See you soon,
Carla and the Swiss Church team