Events – Friday, June 17th, 2022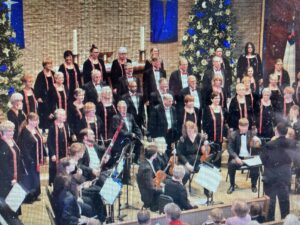 Thursday 16 June at 1pm- River City Chorale Concert
We are delighted to welcome the River City Chorale from Sacramento, California to The Swiss Church London. They will be visiting us a part of their June 2022 summer tour to the UK.
The chorale writes:
"The 50-voice River City Chorale has been bringing fine choral music to the greater Sacramento region for over four decades. Founded in 1977, the Chorale's mission is to inspire and enrich our community through high-quality and diverse choral performances.
The members work diligently preparing and performing three distinctively different sets of concerts each season. The concerts include a diverse repertoire including classical, folk, multicultural, pop, jazz, and musical theatre.
While making quality choral music, chorale members enjoy building community through social interaction and shared experiences at rehearsals, retreats, concerts, parties, and other events.
The River City Chorale has embarked on an international tour every three years since 1984. Past destinations include Canada, the British Isles, Brazil, and fourteen countries in Western Europe. ".
The concert is free.