Events – Saturday, July 17th, 2021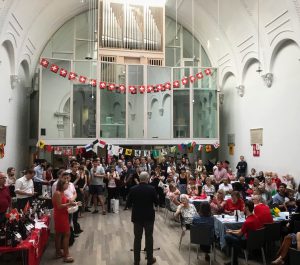 Swiss National Day 2021 –Special  Sunday Service at The Swiss Church in London – 11:00 a.m.
Reverend Carla Maurer, Minister of The Swiss Church in London writes :
Every few years it so happens that the 1st of August, Swiss National Day, falls on a Sunday…
What an opportunity to come together and mark this special day with a Swiss infused church service! ….
Expect flags, the National Anthem performed on our beautiful Swiss built organ, Swiss wine, guests from the Swiss Embassy and meeting new and old friends (government guidelines permitting). 
Sunday, 1 August 2021, 11am
In order to protect the most vulnerable in our congregation, numbers will be restricted. Please only come to the service if you have signed up here (or contact Carla directly via phone or text message) or we may not be able to let you in. If you have signed up but cannot attend, remember to cancel to free your seat for someone else.
Liturgy: Reverend Carla Maurer
Music: Peter Yardley-Jones and High Holborn Chamber Choir
Donations to The Swiss Church in London
The Swiss Church in London relies on the  continuing support and generosity of all the Swiss community  in these challenging times. Click here to donate.
Your donations help us in many ways.
Church- Sunday Services, pastoral support, church groups.
Swiss Community activities –Swiss National Day, Swiss Family Christmas, live screening of Swiss sports events, social groups.
Outreach- for the Homeless and vulnerable.
-Culture- exhibitions, concerts, performances and other arts events.
We thank you all.
The Swiss Church in London .