Events – Monday, July 22nd, 2019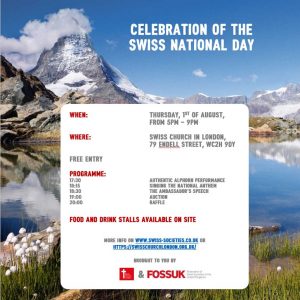 The Swiss Church in London is very proud to be hosting Swiss National Day celebrations once again. The afternoon and evening's events are being organised this year by FOSSUK (Federation of Swiss Societies in the UK). We also gratefully acknowledge the support of the Swiss Embassy in London, the ambassador and his staff.
Doors open at 5pm. The evening will end at 9pm sharp. The event is expected to be very popular. The venue has a capacity of 150 people and entrance, which is free, will be on a first-come first served basis.
Traditional Swiss food and drink will be on sale.
An exciting programme of events will include
17.30 Authentic Alphorn performance
18.15 Singing of Swiss National Anthem
18.30 Swiss Ambassador's speech
19.00 Auction
20.00 Raffle