General News – Monday, January 1st, 2018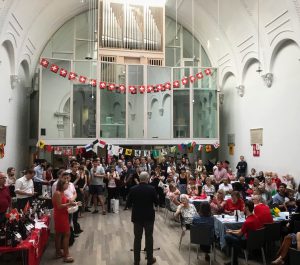 The Swiss Church News Winter 2018 edition is available online now.
Read all about what we've been up to since our summer edition, and what the community events that we have planned for the beginning of 2019.
Read all about our exciting programme of Arts Events too.
Click here to download your copy.
Featured in this edition:
Letter to Readers from our sabbatical Minister Revd. Meret Engel
News from the Consistoire from our President Peter Stäuber
Arts Programme News from our Arts Curator, Kirsty White
News from Switzerland- visits from Grossmünster Zurich, Laufenburg and Sempach
Reflections on the Reformation by Daniel Engeli.
News from our Community Worker Josh Kelly- highlighting our outreach work and Christmas Appeal for the Homeless.
Events calendar Church and Swiss Community Groups- Mothers' Group, Frauenverein, La Causerie and VEGSIL , Church Services, Carol Service, Swiss Family Christmas Afternoon
Events calendar- Music, Arts Performances, Talks