General News – Tuesday, March 2nd, 2021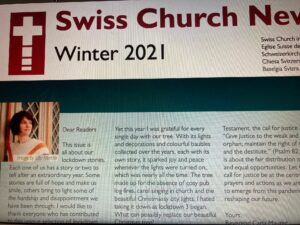 It's here for you to read and download.
The latest edition of the Swiss Church News from the Swiss Church in London looks at the many and varied experiences of the Swiss community in London, the UK and further afield.
We also bring you details of the spring Artists in Residency programme at the Swiss Church in London , whilst the church building itself remains closed to the public under current Covid-19 regulations.
Find out how we have found new ways to deliver church services and pastoral support during the last year.
Current subscribers to the print edition of The Swiss Church News will receive their copy in the post shortly. If you would like to receive a print copy yourself, please send an email, or write to us.
We are grateful for your contributions towards the cost of producing The Swiss Church News, and towards the costs of running The Swiss Church in London at this time.  You can donate  securely online here