Events – Friday, February 15th, 2019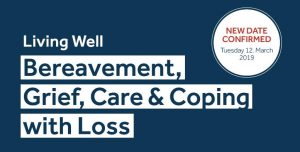 A Swiss Benevolent Society Seminar at Swiss Embassy, Montagu Place, London W1
Tuesday 12th March 2019 -6.30pm
The Swiss Benevolent Society together in partnership with Cruse Bereavement Care are holding a new seminar in their Living Well series, on the subject of Bereavement, Grief, Care & Coping with Loss.
Please see further details and registration details below:-
FREE ADMISSION
Registration: 18:15
Presentation with Q&A: 18:30–19:30
Drinks Reception: 19:30–20:00
Location: Swiss Embassy London,
16–18 Montagu Pl, London W1H 2BQ
To register: Log on to the Swiss Benevolent Society website.  Click under Activities to register: http://www.swissbenevolent.org.uk/activities/
 You will need to register your guest(s) too.   Registration also possible by  telephoning the Swiss Benevolent Society  on 0207 836 9119
Please note that since this event is being hosted by the Swiss Embassy, registration is compulsory.