Events – Monday, November 22nd, 2021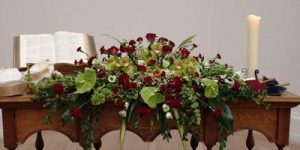 Sunday 28 November – Online Audio Service from The Swiss Church, London
Our November online audio Sunday Service will be available to download here (from Friday 26 November).
The reading will be from the New Testament epistle of Paul  to the Romans. Romans 13:11-14. Click here for the reading in English, French, German and Italian
Our Minister, Reverend Carla Maurer will deliver the sermon. She writes:
The sermon will be about the transition from darkness to light between Remembrance Sunday (11 November) and First Sunday in Advent (28 November), and the messy and unpredictable process of mourning, not only in the face of death, but also in the face of broken relationships, regrets, ill health and farewells.
This week's audio service is a little shorter than usual for technical reasons and availability of our "backroom team". It comprises of organ music by Swiss Church London Director of Music Peter Yardley-Jones, prayers, the reading, sermon and blessing. Special thanks this week  go to Julian Simons for his production and editing of this episode, during his very busy week.
Keep a look out for further information about our online and in-person services for Advent and Christmas. Information will be posted here on our website, Facebook, Instagram and our newsletters.