General News – Tuesday, January 3rd, 2017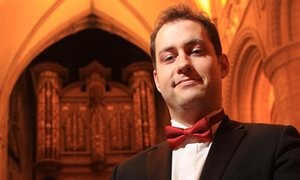 Jonathan Hope is quickly gaining a reputation at home and abroad as one of the most dynamic young organists of his generation. Educated at George Abbot School in his hometown of Guildford, he studied initially with Stephen Lacey, John Belcher and David Sanger, and then at the Royal College of Music, London with Margaret Phillips and Sophie-Véronique Cauchefer-Choplin.
Jonathan became Assistant Director of Music at Gloucester Cathedral in March 2014, where he is the principal organist for the cathedral services, accompanist to the Gloucester Choral Society, Musical Director of the Saint Cecilia Singers, and Accompanist to the Gloucester Three Choirs Festival Chorus.
Increasingly in demand as a recitalist, Jonathan's career to date has taken him throughout the UK, as well as France, Germany, Italy, the USA and Australia. He has performed solo recitals at Canterbury Cathedral, Westminster Cathedral, St. Paul's Cathedral, Westminster Abbey and Saint-Sulpice, Paris. Recitals abroad in the 2016/2017 season are in Sweden and Rome.