General News – Thursday, December 3rd, 2020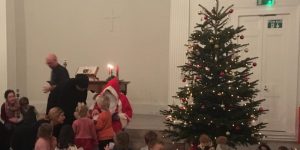 Samichlaus is unable to visit us at the Swiss Church London this year.
We very much regret that we are unable to hold our traditional Swiss family Christmas afternoon celebrations this year. This is a big disappointment  for us all. Covid-19 restrictions made it impossible to organise a visit from Samichlaus, and ensure that the children, their families and everyone would be safe and well, and be able to enjoy a wonderful afternoon.
We look forward to Samichlaus  visiting us again next year.