General News – Tuesday, February 7th, 2017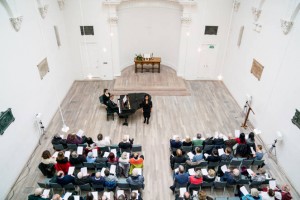 We are delighted to host the Royal Opera House Jette Parker Young Artists Programme at the Swiss Church. The programme is designed to support the artistic development of talented singers at the beginning of their career.
Hear the Young Artists in an intimate setting with the programme of free lunchtime recitals, which take place every other Monday at 1pm at the Swiss Church.
Next recitals:
13 February
27 February
13 March
27 March
10 April
24 April
8 May
22 May
5 June
19 June
For more details visit the Royal Opera House webpage: http://www.roh.org.uk/recitals/lunchtime-recitals
Tickets are free. We advise you to book in advance. A limited number of tickets can be booked through the Swiss Church office by contacting Venue Manager Nat Breitenstein: venue@swisschurchlondon.org.uk or 07590 879 201