General News – Friday, January 6th, 2017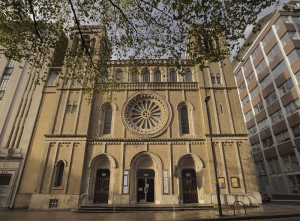 The year 2017 marks 500 years since, according to the legend, an Augustinian friar named Martin Luther nailed to the door of a German church 95 Theses that challenged the malpractices of sections of the Roman Catholic hierarchy.
Throughout the year, twelve parishes across London will welcome each other, fellow Londoners, and visitors on their doorsteps, inviting them to experience for themselves the diverse heritage of the Reformation. Each month, a different congregation will host an event beginning at its open door, in the hope that all those involved will learn something new, exchange ideas and perspectives, and attempt to understand together what the relevance of the Reformation is for us today.
In January, Bloomsbury Central Baptist Church, which is just a stone throw away from the Swiss Church, invites to the exhibition "Baptism, a radical act" which will feature artwork produced by those who live with homelessness, and by other artists associated with Bloomsbury. It will invite reflection on the theme of Radical dissent within the religious and political sphere.
Bloomsbury Central Baptist Church, 235 Shaftesbury Avenue, London, WC2H 8EP
Monday to Friday
9 – 20 January 2017 10am – 4pm
23 – 27 January 2017 10am – 4pm
Find our more about the reformation events here or download the brochure Booklet 500 Reformation final.