General News – Tuesday, February 7th, 2017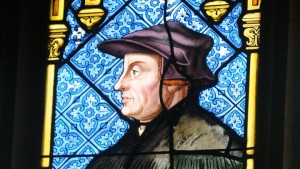 Join us to mark the 500th anniversary of the reformation at the Swiss Church in London!
1pm: Sausage lunch with a twist
After the Zurich printer Christoph Froschauer served sausages to his guests during Lent 1522, the Swiss city and its Church changed for ever. Froschauer was arrested for breaking abstinence from meat during Lent, but one of his guests was the people's priest at the Grossmünster— Ulrich Zwingli. A few days later Zwingli defended Froschauer from the pulpit: "In a word, if you will fast, do so; if you do not wish to eat meat, eat it not; but leave Christians a free choice in the matter." The Protestant Reformation had erupted in Switzerland.
2:30pm: Welcome by Rev. Carla Maurer and Mr. François Voeffray, Deputy Head of Mission at the Swiss Embassy 
2:45pm: Lecture by Prof. Rebecca Giselbrecht, University of Zurich, followed by Q&A
4:30-6pm: Goldsmiths exhibition 'Hierophanies', curated by Marian Stindt