Events – Thursday, April 1st, 2021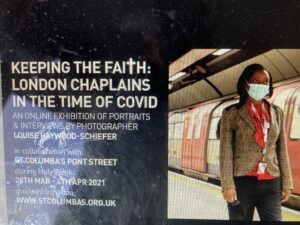 Keeping The Faith- London Chaplains in the time of Covid
Click here to view the online exhibition
At times of great uncertainty many people turn to faith leaders for support. Over the last twelve months it's been more difficult than ever for ministers to offer pastoral and spiritual care to their congregations and communities.
In a series of portraits and interviews, photographer Louise Haywood-Schiefer introduces some of the Christian chaplains who have supported Londoners through the pandemic whilst navigating new technologies, government restrictions and maintaining their own well-being.
In collaboration with Holy Week at St Columba's Church of Scotland, Pont Street, London , verses from the psalms are offered each day for the journey to Easter.