General News – Monday, August 16th, 2021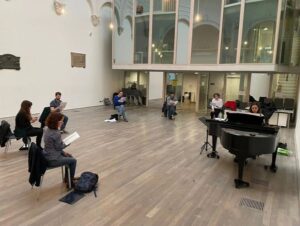 The wonderful High Holborn Chamber  Choir is currently recruiting.
Some of their members provide the choir for  the morning  service on the first Sunday of each month
High Holborn Chamber Choir musical director Rachel Maby, who trained at the Royal Northern College of Music and Trinity Laban Conservatoire of Music and Dance writes:
"We are currently seeking new altos, tenors and basses. You need to have some previous choral singing experience and be confident enough to sing in a small ensemble. Anyone interested in joining is very welcome to attend a 'taster' rehearsal before auditioning; the next one is on 30 September.  Auditions are short and you don't need to prepare anything in advance. If you'd like to find out more about joining, please email": info@highholborncc.org.uk
High Holborn Chamber Choir rehearses at the Swiss Church on Thursday evenings and regularly gives concerts there as well as at other venues in London and beyond.
The choir performs a wide range of music from early church music and madrigals to contemporary jazz, both a cappella and accompanied.