General News – Monday, February 14th, 2022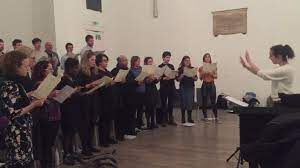 The wonderful High Holborn Chamber  Choir is currently recruiting.
At the moment, they are particularly on the look-out for new basses to join them, although all voices are welcome. Click
here
to go directly to their website and find out more.
High Holborn Chamber Choir musical director Rachel Maby, who trained at the Royal Northern College of Music and Trinity Laban Conservatoire of Music and Dance writes:
"We are currently seeking  basses. You need to have some previous choral singing experience and be confident enough to sing in a small ensemble. Anyone interested in joining is very welcome to attend a 'taster' rehearsal before auditioning. Auditions are short and you don't need to prepare anything in advance. 
Click
here
to listen to a YouTube recording of the choir rehearsing at The Swiss Church In London . (The recording was made before Covid-19).
High Holborn Chamber Choir rehearses at the Swiss Church on Thursday evenings and regularly gives concerts there as well as at other venues in London and beyond.
The choir performs a wide range of music from early church music and madrigals to contemporary jazz, both a cappella and accompanied. Some members of the choir also form the Swiss Church in London choir and currently sing at the Sunday Morning Services on the first Sunday of each month.