Events – Thursday, April 18th, 2019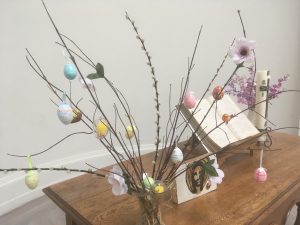 The Swiss Church in London welcomes you to our Easter Sunday Service with Communion, held in Church at 79 Endell St at 11:00 am. Everyone is welcome to join in Communion whatever their faith tradition might be. We worship in the Reformed tradition and have an ecumenical outlook.
Our hymns and liturgy are in English, French and German, and accompanied on the Späth organ, played by our Director of Music, Peter Yardley-Jones. The service will be conducted by our Minister Revd. Carla Maurer. The sermon is in English. Printed copies, including a large-print version will be available at the Service.
Please stay for lunch after the Service. It is an excellent opportunity to get to know people and to chat. You will be most welcome. If you would enjoy the opportunity to chat in Swiss German, or French, come and join us. We all speak English too, and a number of other languages as well. We look forward to meeting you all – friends, new and old.
The Swiss Church in London was founded in 1762 by migrants from French speaking Switzerland, mainly Geneva, Valais, Vaud and Neuchâtel, who wished to worship in their own tradition and language. Until the 1960's there were separate French and German congregations, each with their own Minister. Nowadays we are one congregation using French, German and English. The Swiss Church has offered a home from home for Swiss people, their families and friends for over 250 years. We are proud of our tradition for performing community outreach work in Covent Garden, part of a tradition that goes back to our earliest days. We also have a wide and varied arts cultural programme in our beautifully renovated Church. In 2009 the Church renovation project to convert the Church into a space for Church, Community and Culture was completed by renowned Swiss architects Christ and Gantenbein.