Events – Saturday, April 30th, 2022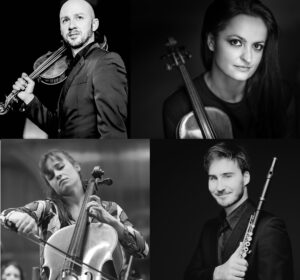 As part of Slovenian Embassy Concerts, we are delighted to invite you to the Opening Concert with Lana Trotovšek (violin), Boris Bizjak (flute) and Urška Horvat (cello), to be joined by Nejc Mikolič (viola), a guest from Slovenia, the principal violist of the Carinthian Symphony Orchestra and one of the most sought after violist in the country.
Musical bridge between Slovenia & UK
Wednesday 11th May 2022 at 7.30 pm
Swiss Church, Covent Garden
79 Endell St, London WC2H 9DY
Programme in this intimate setting will include beautiful chamber music by Mozart, Rachmaninov, Lobos, Reger, Halvorsen and an acclaimed Slovenian composer Milko Lazar.
Programme:
W.A.Mozart: Quartet for flute, violin, viola and cello
M. Reger: Serenade for flute, violin and viola 
Interval
Milko Lazar: Andante for String trio
V. Lobos: Jet Whistle for flute and cello
J. Halvorsen: Passacaglia for violin and viola
S. Rachmaninov: Vocalise for flute, violin, viola and cello (arr. B.Bizjak)
The event is part of the cultural programme marking the 30th anniversary of the establishment of diplomatic relations between Slovenia and the United Kingdom.
The photograph ensemble and text is copyright of The Embassy of The Republic of Slovenia in London and has been used with the express permission of  the embassy