Events – Thursday, October 7th, 2021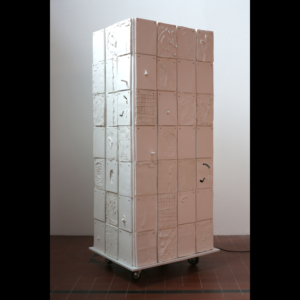 (photo:Abel Shah :Speak Easy.. Monolith 2019 – Copyright of the Artists)
Our Swiss Church London Artists in Residence from September are  Abel Shah, an artistic duo consisting of the Alex Bell and Guilia Shah.
They will developing their work in the Swiss Church London alongside our usual day -to-day activities.
Abel Shah have a mutual interest in the relationship between language and the body, structures of power, and the distribution of knowledge and ideas through technologies. They  create multimedia installations, publications and internet art.
The artists in their own words:
"The artist in residency programme at the Swiss Church, supported by Camden Giving is a really unique opportunity for us to grow and develop our practice. We will be using this opportunity to develop a series of sculptures that act as amplifiers, deriving from ideas around "the body an an archive"  exploring the role of bodies as vessels in which collective knowledge is preserved and transmitted. throughout the residency we will be looking into various histories of the distribution of knowledge, thought and language by looking closer into local museum collections, conducting discussion sessions and engaging with the communities of the Swiss Church. We are extremely grateful to have been awarded this opportunity and look forward to next months"
Read more about Camden Giving and Abel Shah