Events – Monday, May 6th, 2019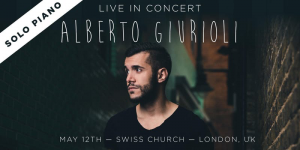 Alberto Giurioli's music is inspired by the music of Ludovico Einaudi, film music composer Hans Zimmer and many other musicians and different genres.
Tickets for this event must be booked via the following Eventbrite link only. Click here

 His compositions have been streamed over 3 million times on Spotify. His work Tutto è bellissimo reached number three in the Classical iTunes Charts in the UK and Spain
After his latest single Nightfall premiered on Classic FM, he recorded a piano solo session of his pieces Following Yourself , Tutto è bellissimo and Nightfall at BBC Maida Vale Studios MV4 for theJanice Long Show. His music haas been viewed 500.000 times on YouTube.
Alberto Giurioli is a pianist and composer who was born in 1991 and raised in a small Italian town near Venice. He started playing piano at the age of four. After his studies at the Conservatorio di Musica Francesco Venezze he headed north to London, where he began performing his cross-genre compositions on street pianos across the metropolis.
Disclaimer- This is a commercially run and organised event. All legal responsibility and obligations relating to the event rests with Alberto Giurioli and his representatives and not with the Swiss Church in London