Events – Friday, July 3rd, 2020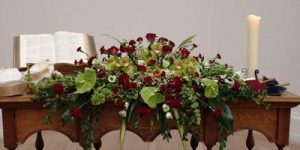 Our  Sunday Morning Service on 5 July 2020 includes communion, and is an online audio service. Click here to listen to the service and for the Order of Service and Hymn Sheet.
The sermon on the theme of Mary and Martha,  is by our Minister Reverend Carla Maurer and guest Reverend Gerry Stanton (Union Church), prayers by Marianne Hertig-Fisher and Niccolo Aliano, readings by Colin McIntyre and Rev Carla Maurer.
Music by Swiss Church Director of MusicPeter Yardley- Jones (on our Späth organ), and by Julian Simmons.
At the Swiss Church it is our tradition to sing hymns in French, German and English. The communion liturgy is also in the three languages.
In the second half of the service you will be invited to join in with the sharing of communion. If you wish, you can prepare your communion table in your home ahead of the service with a glass of wine or juice, and a piece of bread or a cracker.
Produced by Julian Simmons and Carla Maurer.