Events – Saturday, April 4th, 2020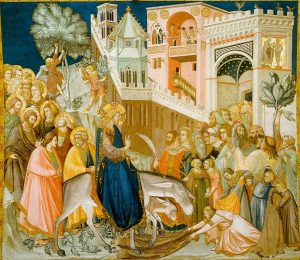 On Palm Sunday, 5 April 2020 we will be holding a virtual online service for you to listen to. It is now available to listen to here.
Our Minister Reverend Carla Maurer will lead the service and deliver a sermon.
Members of the congregation will read the lessons and lead the prayers.
Peter Yardley-Jones, Director of Music at the Swiss Church in London will provide the organ music our Späth organ.
We will continue to provide online services on the first and third Sunday of each month for the duration of the Covid-19 crisis.
On the other Sundays in the month we will provide links to other services from other European churches in London.
We are a Church with an ecumenical outlook, open to all, and with roots in the Swiss Reformation.
We love the spoken word, art and music. This week's painting is The Entry of Christ into Jerusalem by Italian artist Piero Lorenzetti (120-1348).