General News – Thursday, October 1st, 2020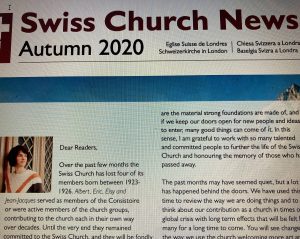 The  Swiss Church News Autumn edition is out now!
Click
here
to read the online edition
The print version will be mailed to subscribers soon. Send us an email if you would like to receive your own printed copy info@swisschurchlondon.org.uk
Read about-
-Our Minister's letter to readers- the passing of the 1920′-born generation.
-The Artist Residency at our beautiful church
– Team member Heidi's childhood in Wil and her experience of racial abuse.
– Editor James' memories of a rural childhood in Ticino, featuring his grandmother's mushroom risotto recipe.
– The return of Sunday Service to The Swiss Church, London and the continuation of online audio services.