Events – Friday, October 1st, 2021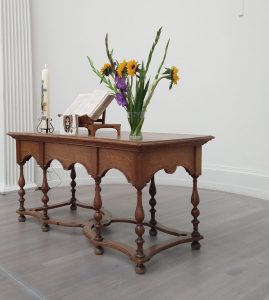 The Sunday Service for  3 October  will be at 11:00 am  in The Swiss Church, London  in Endell Street.
The service will be led by Reverend Carla Maurer, our Minister. Hymns will be in English, French and German accompanied by our choir consisting of members of the High Holborn Chamber Choir. Our  Director of  Music Peter Yardley-Jones will play our famous Späth organ.
The bible reading will be from the epistles of Peter (2 Peter 2:1-3;17-21). Carla will explore this letter in her sermon. Carla writes :
" I will be speaking about false prophets and how in this confusing world we can ever possibly find truth. We will also explore the context and content of Peter's second letter and why disciple Peter can be excluded as the real author of the letter. "
Come and join us. You will receive a warm welcome.
Click here to download  the Order of Service, Hymn Sheet  and Sermon.
The generous support of friends , members and supporters of The Swiss Church in London has been vital during these challenging times. You can donate securely online and find more information about how to support us via the link here. Every pound, franc, euro or dollar helps. We thank you all.