Events – Thursday, January 20th, 2022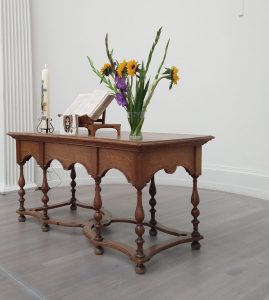 The next Sunday Service will be held in The Swiss Church In London, 79 Endell Street WC2 at 11:00. 
Read or download the script of the entire service here
Reverend Carla Maurer, our Minister writes:
Those who are familiar with the Swiss Church building know the feeling of awe that our beautiful building evokes in many. It's a place of serenity and peace.
We are excited that our Sunday church services will once again take place at 79 Endell Street. Come and find a moment of peace, explore your faith, meet new friends and enjoy the wonderful music with the Swiss Church congregation. Everyone is welcome, no matter your faith tradition (or none). Just come as you are! Our services, rooted in the Swiss reformed church tradition, are inclusive and thought-provoking and accompanied by the local High Holborn Chamber choir and talented organist Peter Yardley-Jones.
We will meet on the following Sundays, at 11am:
23 January
6 February
6 March
From April, we intend to return to our pre-pandemic schedule of two services per month, every first and third Sunday at 11am – just in time for Easter! One of the services will also be made available online in an abbreviated version for friends and members across the world.
We hope to see you soon!
At our Sunday Service on 23 January Reverend Carla Maurer will take as theme for her sermon the story of The Man with an Unclean Spirit as told in the New Testament gospel of Luke Chapter4:31-37.  (Click here to read the passage in English, French, Germany and Italian). Read or download the script of the service here
Director of Music Peter Yardley-Jones will be the organist.  The Swiss Church London Choir (compromised of members of the High Holborn Chamber Choir) will accompany the congregation singing hymns in English, French and German.
There will be a retiring collection to support the word of The Swiss Church in London.  You can also donate online here via the secure link. We thank you for your generosity.