Events – Thursday, September 30th, 2021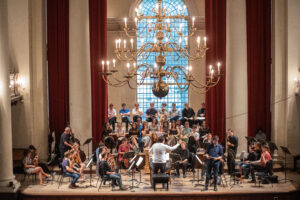 CANCELLED-  THIS CONCERT HAS HAD TO BE CANCELLED DUE TO THE SUDDEN ILLNESS OF TWO OF THE MAIN PERFORMERS.
On Friday 22nd October at 7:30 pm London's most recently founded period performance ensemble, the London Baroque Orchestra, is performing its  'Bach to Bach' programme, for its debut concert at the Swiss Church,  London where it is becoming the church's resident orchestra.
Programme -Music by J.S. Bach
1. Orchestral Suite No2 in B Minor BWV 1067
2. Violin Concerto in E Major BWV 1042
3. Brandenburg 4 BWV 1049
4. Brandenburg 5 BWV 1050
Director: Jack Gonzalez- Harding
Violinist: Conor Gricmanis
Flautist: Daniel Swani
Tickets and how to book:
Price -£25 Standard  or £10 for students and concessions
Click here for secure online booking via Ticketsource.  A limited number of tickets may be available on the door on the day. Prior booking strongly advised.
Photography Credit -Photo by @emmalouiseogilvyphotographer . This photograph is copyright protected and must not be reproduced without prior consent of the photographer