Events – Monday, April 4th, 2022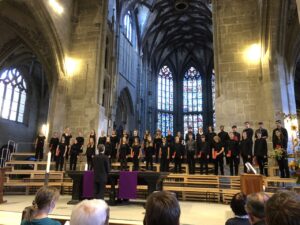 Friday, 22 April 2022, 3pm, The Swiss Church London, 79 Endell Street
This Spring the youth choir of the Berne Minster, Switzerland, will embark on a concert trip through England . They will visit Canterbury Cathedral as well as The Swiss Church London. You are invited to their exclusive concert in Endell Street.
Berner Münster Jugendchor
Director: Johannes Günther
The concert will include works by Johann Sebastian Bach, Felix Mendelssohn-Bartholdy, Wolfgang Amadeus Mozart, Swiss composers and Swiss folk tunes.
Free entry, retiring collection.
There will be a drinks reception afterwards to meet and greet our guests from Switzerland.
Click here for more information.
Photo credit- Bern Münster- not to be reproduced without express permission. https://www.bmkjc.ch/bmkjc/portraet