Events – Friday, March 19th, 2021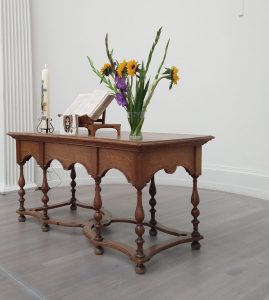 On Sunday 21 March there will be an online Sunday Service from the Swiss Church London. Click here to listen. You will also find  The hymn words, bible readings, and Order of  Service are also available via the link.
Listen on Sunday at 11:00 am ( or  at the time that suits you best from Friday evening 19 March).
The online service will be about 40 minutes long. It includes hymns in French, English and German. The pre-recorded organ music is performed on the Swiss Church London Späth organ by Director of Music, Peter Yardley-Jones.
The sermon  by our Minister Reverend Carla Maurer will be based on Isaiah 43.  Carla writes : "God feels abandoned by the people. Rather than bringing burnt offerings, they burden God with their sins. Burnt offerings are a thing of the past in our part of the world, but what can we bring God instead of burnt offerings? What is the purpose of this custom? We will reflect the concepts of submission and sacrifice in the light of Easter".
 In these challenging times The Swiss Church in London relies more than ever on the support of members and friends in the UK, Switzerland and across the world. Find out more here about how you can donate. We thank you all  for your help and support.