Events – Monday, November 29th, 2021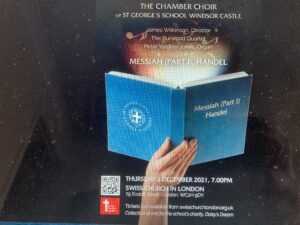 St George's School Windsor Castle Chamber Choir will be singing Handel's Messiah at The Swiss Church London on Thursday, 2 December at 7pm. The choir have been working incredibly hard and are in excellent voice.
It promises to be a superb concert and includes the famous 'Hallelujah' Chorus.
The Swiss Church London's Director of Music Peter Yardley-Jones will be playing the Swiss Church's superb Späth organ.
The concert director is James Wilkinson. The Burwood Quartet will also be playing
Tickets are available via the secure online ticket sales  website: https://ti.to/scl/windsor-2021