Events – Monday, December 13th, 2021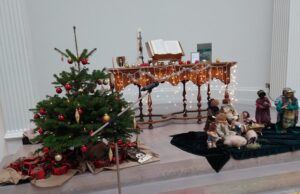 The Christmas Carol Service 2021 at The Swiss Church In London has been cancelled.
Due to the continuing rapid spread of the Omicron variant of the Covid-19 virus it has been decided to cancel the Carol Concert.
There was going to be retiring collection at the end of the Carol Service for a nominated charity, as is our tradition. You can still donate via the link below.
We had decided to collect donations for the charity Gingerbread, the leading national charity working with single parent families since 1918, and chosen by the outgoing Mayor of Camden Councillor Sabrina Francis.
You can still  make your donation here   via the  following Swiss Church webpage link . Please earmark your Christmas Carol service donation 'Gingerbread'
Wishing you a peaceful Christmas. Joyeux Noël! Frohe Weihnachten! Reverend Carla Maurer, and team
With every blessing,