Events – Sunday, May 15th, 2022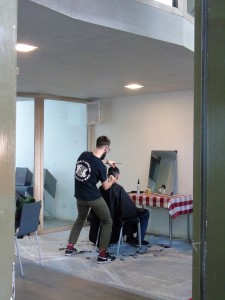 This Tuesday 17 May it's Haircuts for the Homeless at Breakfast on the Steps again.
Once a month, Jake Fox, stylist at Ena Hair Salon (and also responsible for the vicar's haircut) comes in on a Tuesday morning during Breakfast on the Steps to give people affected by homelessness and poverty a free haircut.
Upcoming dates 2022:
 14 June, 12 July, 16 August, 13 September, 18 October, 15 November, 13 December
The Swiss Church is located in an interesting part of central London. Endell Street is quiet spot in between the vast business and busyness of Covent Garden, Shaftesbury Avenue, and Holborn. We are also on the border of Camden and Westminster, two boroughs that between them account for one third of London's street homeless. Our aim is to provide a welcoming space for everyone.
Our community programme reaches out to local people and the homeless as well as Swiss people living in London.