Events – Wednesday, July 13th, 2022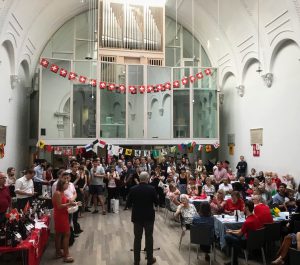 The Sunday Morning Service which was due to take place on 17 July at 11:00 am, has been cancelled.
This decision was made to protect our Minister and congregation, in view of the extreme hot weather conditions that are predicted for London this weekend.
Sunday Services at The Swiss Church in London will be taking a summer break now, as our long-standing tradition. The first Sunday Service after the holidays will take place on Sunday 4 September at 11:00 am. We wish you all a good summer.
Photo credit-  Swiss National Day celebrations at the Swiss Church in London in 2018  Copyright -The Swiss Church in London