Events – Monday, November 29th, 2021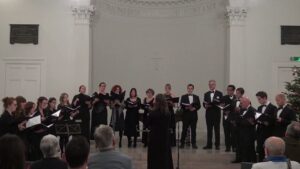 Saturday 11 December at 7.30pm at the American Church in London, Tottenham Court Road
We are delighted to recommend the High Holborn Chamber Choir Christmas concert to members and friends of The Swiss Church , London. Members of the High Holborn Chamber Choir form the Swiss Church Sunday service choir. The Choir holds regular concerts at the Swiss Church.
High Holborn Chamber Choir writes:
We are excited to present a diverse programme with music from different countries and across many time periods. In addition to some cheerful Christmas songs, the concert will feature music from famous composers such as the uplifting "My Soul, There is a Country" (Hubert Parry), "Towards the Unknown Region" (Vaughan Williams) and "The Road Not Taken," by Randall Thompson's. Interestingly Thomson based this piece on Robert Frost's famous introspective poem. 
Contrast is provided by "Now May We Singen," a modern piece which fuses a fluent melodic line with rhythmic exuberance written by contemporary composer Cecila McDowall. 
Our concert's musical journey will take you across the globe when we sing songs in Chinese, French, and Spanish. For those who would like to travel back in time, we will perform some medieval pieces covering pub brawls as well as some sweet dignified spiritual gems. 
The concert is in aid of raising money for  C4WS –  a fund to support feeding and sheltering homeless people.  
Tickets are available via Eventbrite here.