General News – Wednesday, August 1st, 2018
You can now apply for two three-months residencies 2019/2020 at the Swiss Church.
To learn more click here.
PAST RESIDENCY 2018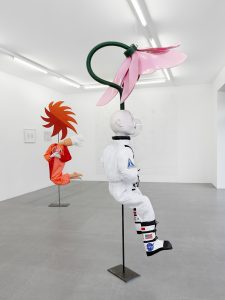 Miriam Laura Leonardi, Angels of Chaos 1 & 2, 2016, various media, dimensions variable
The inaugural Swiss Church August Artist Residency has been awarded to Zurich-based artist Miriam Laura Leonardi. Miriam will be in residence at the Church from 6 – 26 August 2018, where she will be developing her project The Church (after Robert Ashley's Perfect Lives) – a performative reenactment of the THE CHURCH (AFTER THE FACT) – an episode of Robert Ashley's Television Opera Perfect Lives, "the most influential music/theater/literary work of the 1980s."
Born in 1985, Lörrach, Germany, Miriam Laura Leonardi lives and works in Zürich. She has a degree from Les Gobelins photography school in Paris and the ZHDK in Zurich. She held an individual exhibition at the Maria Bernheim Gallery in Zurich in 2016. Her work has been shown at Marbriers 4, Geneva; Swiss Art Awards, Basel; Kunsthaus Glarus, Glarus; Paris International, Paris; Tiblisi 16, Tiblisi; Swiss Institute, New York.