General News – Thursday, May 23rd, 2019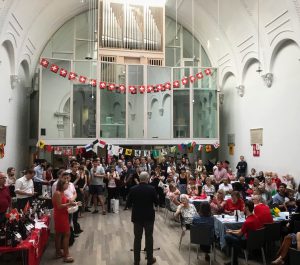 The Summer 2019 May edition of the Swiss Church News is available online. Click here to read, or download your copy today.
In our Summer edition we introduce some new faces- Emily-Rose Simons our new Lettings and Office Administrator introduces herself in her first Letter from the Venue. Kirsty White our Arts Curator, writes her final Arts Programme column, prior to taking up a prestigious curating post in Colchester.
We also sad farewell to long-standing faithful members of the Swiss Church congregation. Read our Tributes to them.
We highlight the work of the Soarta charity and its invaluable work in Moldova, Europe's poorest country. Our Minister Carla Maurer interviews Asea Railean, Director of Soarta ,to find out more about the challenges Soarta faces, and its achievements in alleviating poverty especially amongst the elderly.
All this, and much more.
Print copies will be sent to everyone who has asked to be placed on our mailing list. Copies will be posted to UK and overseas addresses shortly. If you would like to receive a print copy please email info@swisschurchlondon.org.uk.
We appreciate donations towards the costs of production, printing and postage of the Swiss Church News. Suggested donations for 2019 are £12 for UK subscribers, and CHF25 (or local equivalent) for Switzerland and other overseas addresses.