General News – Friday, November 17th, 2017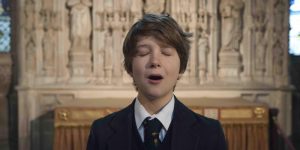 VOICE IMAGES is a new choral composition that responds to the unique architecture and acoustics of the Swiss Church in London. Devised for an ensemble of six singers, it incorporates three distinct compositions or 'voice-images'; sonic representations of delirium. During the performance up to three compositions will occur simultaneously: from the incisive sonority of two singers performing a duet to the polyphonic harmonies of several compositions occurring at one time.
VOICE IMAGES builds on Louisa Fairclough's solo exhibition, Ground Truth, at Danielle Arnaud Gallery in 2011. The show included two 16mm film installations: Bore Song (2011) and Song of Grief (2013), which formed a minor sixth interval when heard together.
Glover and Fairclough have collaborated on a number of compositions since 2014 including Awkward Relaxed (2014), I wish I could be a stone (2014) and Compositions for a Low Tide(2014), as well as two expanded film installations: Can People See Me Swallowing (2014) and Absolute Pitch (2014). This is the first time they have expanded their research into tonal modularity into a live choral manifestation.
VOICE IMAGES has been workshopped with, and will be performed by the Dieci Voices — a professional vocal ensemble based in London.
VOICE IMAGES is part of Being and Appearing, a programme of contemporary art curated for the Swiss Church in London by Kirsty White. http://beingandappearing.org.uk
Kindly supported by the Swiss Church in London, University of Wolverhampton and Arts Council England.
Image: A Gloucester Cathedral chorister sings for 'Absolute Pitch' by Louisa Fairclough & Richard Glover commissioned by Whitstable Biennale 2014. Photo by Milo Newman