Events – Saturday, August 10th, 2019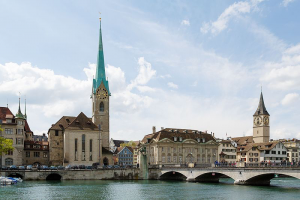 Our Minister Revd. Carla Maurer has been invited once again to preach the sermon at Zurich's historic Fraumünster Church in Zurich on Sunday 25 August at 10:00 a.m.  The service will include a baptism. The organ will be played by Jörg Ulrich Busch.
Carla's sermon (in German) will be posted on the websites of the Fraumünster and The Swiss Church London in due course
After the Service there will be a Kirchenkaffee session (coffee and refreshments) with a chance to hear all the Swiss Church in London. It will be a great opportunity to catch up with all the news of what's been happening at The Swiss Church in London over the last year, and to learn of our plans for 2019-2020.
Later Carla will attend the Annual General Meeting of VEGSIL (Verein ehemaliger Glieder der Schweizerkirche in London). VEGSIL was formed in 1954 by members of The Swiss Church In London who had returned to Switzerland and wished to stay in touch with each other and continue to support the Swiss Church In London.  Click here for further details.