Events – Monday, December 10th, 2018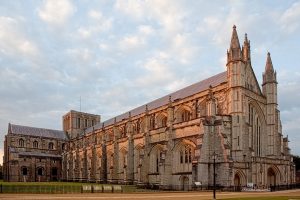 Parish Trip to Winchester on Monday 17th December  2018
Our new parish trip to Winchester will  take place on Monday  17th  December. Please contact Daniel Engeli (contact details below). For all of you have signed up, here is a summary of the itinerary.
Inspired by our recent parish trip to Ely Cathedral , we'd like to invite you to join us on a new parish trip to Winchester.
Proposed Itinerary
10.00 a.m. – Meet at Waterloo Station by entrance to platform 10 for Winchester train , which leaves at 10.20 a.m
12.00 a.m. – Guided tour of the breath-taking Winchester Cathedral , famous for having the longest nave of any Gothic cathedral in Europe.
13.30 p.m. – lunch
Afternoon- Chance to visit either  the famous Christmas Market or the Great Hall in Winchester, one of the finest surviving medieval halls, dating back to the thirteenth century. The Great Hall houses the Round Table ,linked to the legends of King Arthur.
18.23 p.m. arrive back at London Waterloo.
 Price (indicative only)
Train ticket–  We propose to purchase a group ticket for approximately £24 per person.
Entrance to Cathedral- Full price ticket £8.50. Over 60s concession – £6.50
Lunch – £20 approximately.
If you have any further enquiries, please contact  Daniel Engeli
Contact: Daniel Engeli . Phone: 0757 018 4094 or email daniel.engeli@swisschurchlondon.org.uk