The Church (after Robert Ashley's Perfect Lives)

Performance by Miriam Laura Leonardi | Friday 24 August, 7.30pm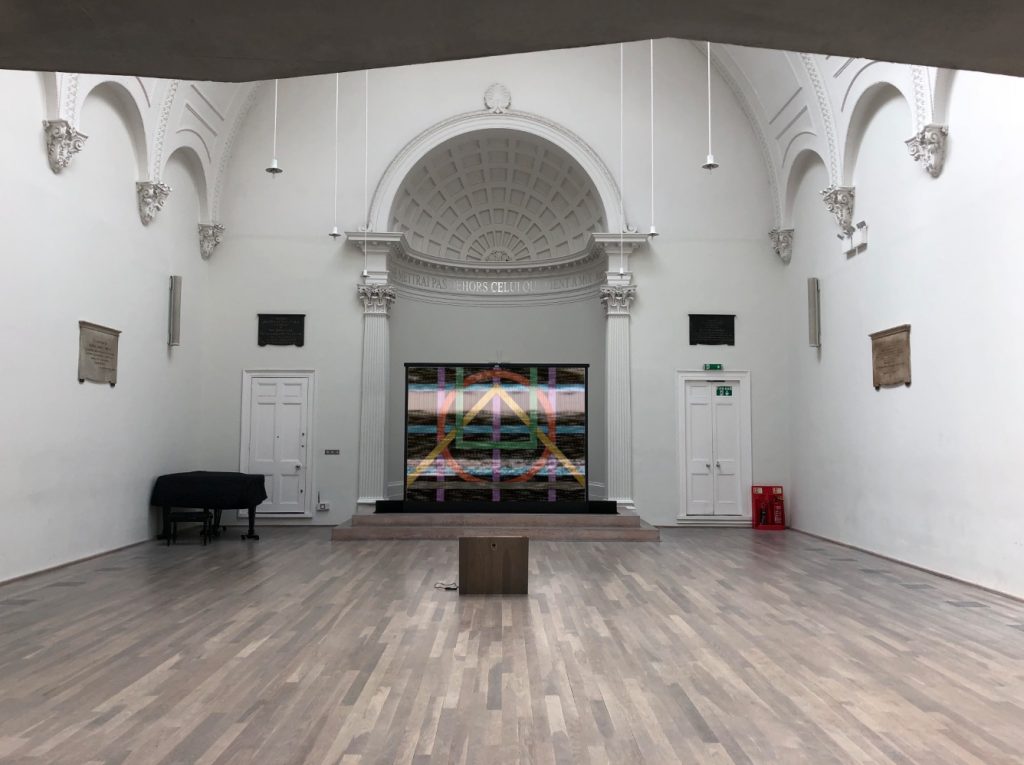 The Church (after Robert Ashley's Perfect Lives) is a live reenactment of the penultimate episode of composer Robert Ashley's television opera Perfect Lives. Devised of by Zurich-based artist Miriam Laura Leonardi, the performance marks the end of the inaugural Swiss Church August Artist residency—an opportunity awarded to a Swiss or Swiss educated artist living in the UK or Switzerland to develop a new work in situ at the Swiss Church over three weeks in August.
Set in the American Midwest and performed in American vernacular language, Perfect Lives is widely regarded as the first American opera designed for a television-watching public. The plot revolves around two itinerant musicians—"Raoul," a singer, and his friend, "Buddy," "The World's Greatest Piano Player"—who are temporarily employed as entertainers at the Perfect Lives Lounge. Here, they hatch a plan with the local residents "to remove a sizeable amount of money from The Bank for one day (and one day only) and let the whole world know that it was missing".(1)
Perfect Lives developed musically through a number of live performances in Europe and America, before The Kitchen, New York commissioned it as an opera for television in the late 1970s (it was broadcast in the UK by Channel Four in 1983). From the beginning it was collaborative in ethos, with Ashley giving collaborators "almost absolute freedom to develop characterisations from the textual and musical materials" he provided,(2) which included the libretto, some diacritic and harmonic indications, and a set of intricate time signatures (there was never a definitive score). Accordingly the opera has huge potential to be translated, transformed and reenacted. In 2017 Leonardi translated four of the seven episodes into French with her students from Ecole cantonale d'art de Lausanne, Switzerland and performed them unannounced in the city's centre.
For The Church (after Robert Ashley's Perfect Lives) Leonardi returns again to the opera, to organise a re-staging of the episode, "THE CHURCH (AFTER THE FACT)," which takes place in the town's church. Leonardi will perform alongside a cast composed of friends and members of the Swiss Church community to live organ accompaniment provided by organist Daniel "Buddy" Engeli. Her ongoing interest in the production lies in the way that Ashley uses language —we are not meant to comprehend Perfect Lives, we are meant to hear it.  The words are merely arrangements of sounds. To cite a passage from THE CHURCH (AFTER THE FACT): "Language has sense built in. It's easy to Make sense. To make no sense is possible, But hard. Language does not have truth built in. It's hard to make truth, which is to stop the search."(3)
(1) & (3) Taken from the libretto to Perfect Lives, published in Robert Ashley, Perfect Lives, Dalkey Archive Press, Champaign/Dublin/London, 2011
(2) Robert Ashley. no date. Perfect Lives. [Online]. [Accessed 12 August 2018]. Available from: http://www.robertashley.org/productions/1977-83-perfectlives.htm
Born in 1985, Lörrach, Germany, Miriam Laura Leonardi lives and works in Zürich. She has a degree from Les Gobelins photography school in Paris and the ZHDK in Zurich. She recently had a solo exhibition at the Kunsthalle Fri Art in Fribourg. Her work has been shown at Marbriers 4, Geneva; Astrup Fearnley Museum, Oslo; Kunsthaus Glarus, Glarus; Paris International, Paris; Tiblisi 16, Tiblisi; Swiss Institute, New York.